La Belle Ancienne
Surroundings
The little village of Assignan is certainly picturesque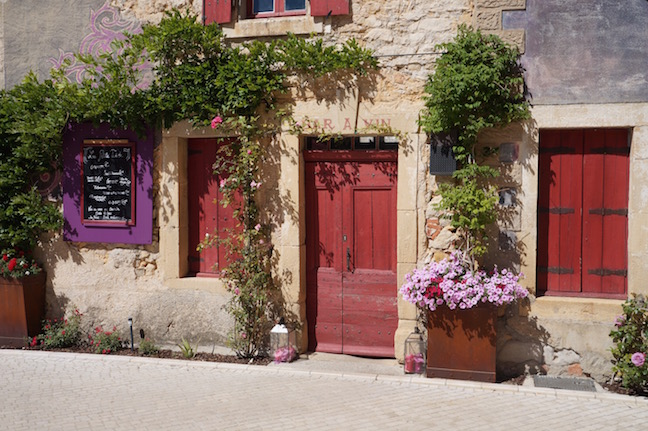 There's no shortage of walking, hiking, biking paths which spread out every direction from Assignan.
But if you want a cool drink in a hot spot, the tapas bar is right up the block! Tasty local food as well.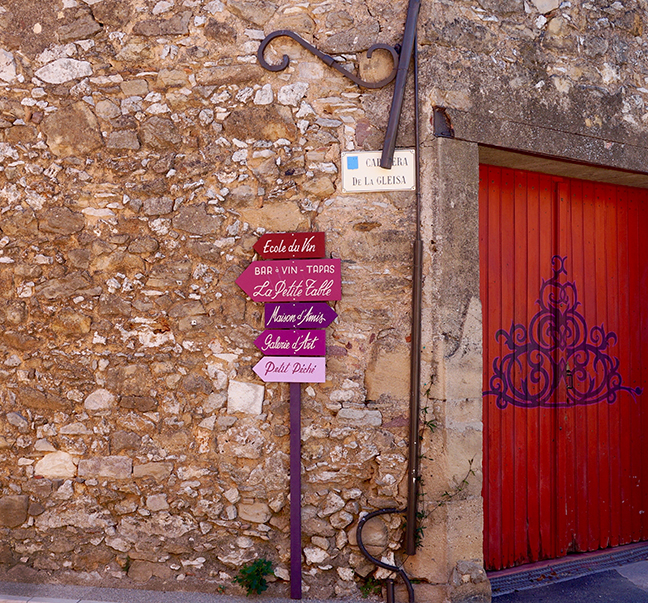 Grand down to petit price, you'll also find a fine french cuisine restaurant, Thai bistro, and at the edge of town, a convenience store (serving take-away pizza on specific days).
Though growing with change, Assignan still keeps its reputation as an authentic hamlet. A travelling baker visits every morning (except Monday) with yummy croissants and fresh breads.
The village is home to many vignobles - several being biologisch. At the Ecole du Vin you might like to do some wine tasting.
Art and music have arrived as well; Galerie d'Art has projects on display and jazz/classical festivals run in summer. L'Epicerie sells fine local food and handmade art while L'Ecurie is a place for more art, music and a pleasant meeting spot.
Assignan also hosts a wellness center in Mon Petit Peche (massage and boutique).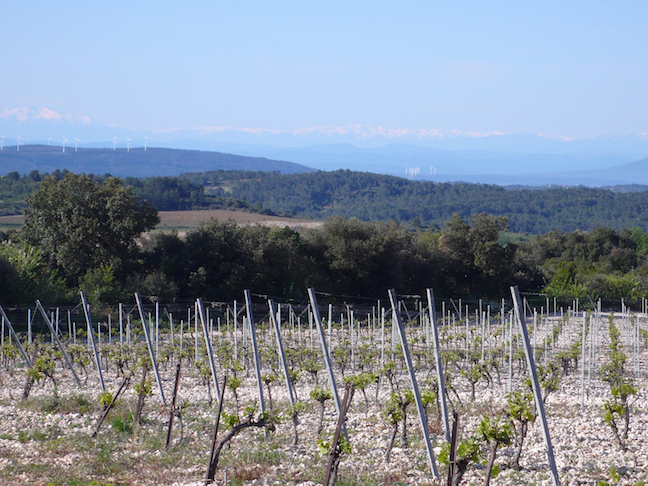 To the northwest from Assignan, you'll see the mountains of the Montagne Noir and to the south, on a clear day, the Pyrenees. Wandering through landscapes of vineyards (those undulating promises of endless wine) whilst enjoying the scents of lavendar, rosemary and thyme, you are on the edge the Parc Natural du Haut Languedoc, with its majestic views.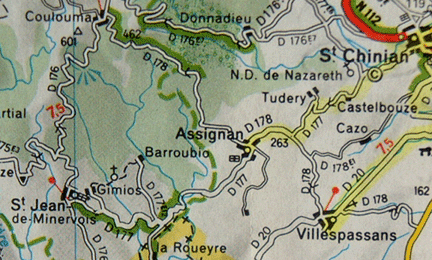 For detailed maps of Assignan, click here.
For a wider map of the area see Expeditions.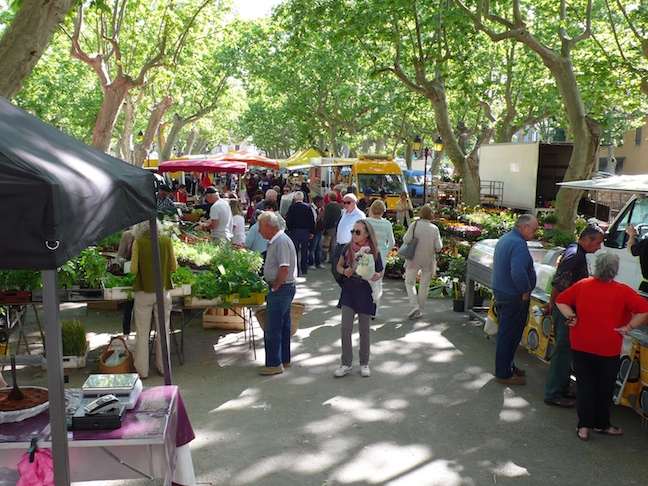 The twice weekly market in neighbouring St Chinian
For major shopping you might want to visit St Chinian, 8 km from Assignan. There you will find shops of all kinds, bars and restaurants, banks, etc. A large supermarket with a petrol station lies on the outskirts of the town. For an alternative mode of transportation, bicycle hire is available in the village. River and lake swimming, canoeing or kayaking is plentiful.

A delightful Provenšal-style market is held every Thursday and Sunday morning under the plane trees in the centre of this lively little town. You'll find fresh local produce - from fruits, vegetables, teas, soaps and spices, to jams, honey and olives, several varieties of breads and cheese, meats and fish, as well as clothing and unique handcrafted gifts.

Southern France is filled with local village markets, some specializing in organic produce. Click for a list of surrounding markets with days of operation and specialty items.
Home
Living/Dining/Kitchen
Bedrooms
Roof Terrace
Utilities and Facilities
How to Get There
Surroundings
Expeditions
History of the Area
Prices/Availability/Reviews
Videos and Slideshows
News
Archway and church photos courtesy of Marty Eigenberger
Fleeting Echoes Ltd. Productions
© Copyright 2004-2018