La Belle Ancienne
A bit of history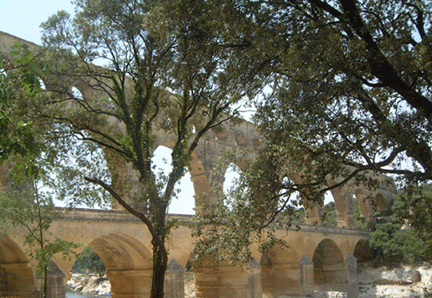 Languedoc is famous for its Roman architectural ruins and traces of the more recent history of the
Cathar spiritual movement, that in the Middle Ages provoked a bloody persecution by the Catholic church.

Equally as prominent are the varied landscapes of vineyards and beautiful sunflower fields,
highlighted by spectacular sunrises and sunsets against rolling hills or the soaring Pyrenees.

I couldn't possibly give more detailed information encompassing
the Languedoc than the following encyclopedic link: The Languedoc.
Here you will find not only history, but geography, geology, architecture, food
and wine tasting, and loads of other things to see and do - a site worth checking out.
What better way to learn about the land than from a native tour guide!
Marie is available on appointment for nearby excursions.
She is also a local artist, creating gifts exclusive to the area.
You can find some of Marie's art at the markets or in her studio.
See examples of "Old World Languedoc" - one of her photographic endeavours.
Home
Living/Dining/Kitchen
Bedrooms
Roof Terrace
Utilities and Facilities
How to Get There
Surroundings
Expeditions
History of the Area
Prices/Availability/Reviews
Videos and Slideshows
News
Farmhouse photo courtesy of Marty Eigenberger
Fleeting Echoes Ltd. Productions
© Copyright 2004-2018