Carriera Granda
In the Languedoc

Of southern France
This lovely house has many of the same qualities as La Belle Ancienne - original tiles, exposed stone walls, wood beams, fireplace, marble sink and spiral staircase. It showcases two terraces - one through the doors off the living/dining room area on the main floor and the other leading out from a large bedroom on the top floor.

On the main floor there is a small but modern and well equipped kitchen, open dining/living area with plenty of room for comfort. The fenced back patio is private and perfect for having meals. The spiral staircase leads up to a bedroom with a double size bed.

This same floor has a spacious modern bath with two sinks and large tub (includes shower attachment) for soaking. There is also a WC and a utility room with washing machine.

A few more steps bring you to the uppermost level - a deluxe room with a king size and single bed as well as an entertainment center and television. This top floor displays a classic writing desk and has full size doors which lead out to another terrace with lovely views of the area.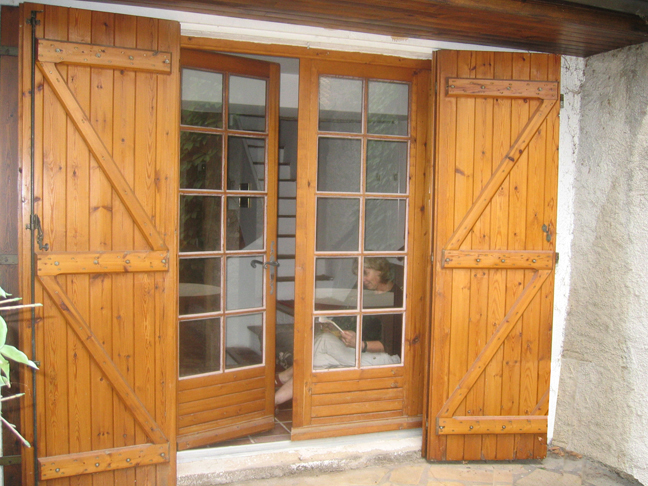 For prices, availability, reservations and more information:
Christine Sohre - manager
holiday@LaBelleAncienne.com
Fleeting Echoes Ltd. Productions
© Copyright 2004-2016